Download a FREE copy of MIMIC SNMP Agent Simulator single for your development and testing needs. You can create any SNMP-based device with any number of public or private MIBs to run a large variety of device configurations with your SNMP management application. It lets you generate thousands of traps to simulate disaster scenarios.
mimic simulated device responds to snmpv1, snmpv2c and snmpv3 queries.
it appears to the snmp network management application as if it is talking to an actual device.
simulated device has its own ip (or ipv6) address, independent read and write snmpv1 community strings or snmpv3 usm and vacm parameters, and notion of uptime.
devices can be configured at run-time, both on an individual and collective basis.
MIMIC Discovery Wizard can record your production network or test lab with thousands of real-world devices, to simulate them and multiply many times. MIMIC MIB Wizard can compile any number of SNMP MIBs, in any order at the same time.
Supported Platforms: Windows®, Solaris, Linux and Amazon Cloud. (details)
MIMIC Features
1. Any vendor Agent in a Box
Agent instance has its own IP (or IPv6) addresses on any subnet.
SNMPv1 agent has independent read and write SNMP community strings.
SNMPv3 agent has independent USM and VACM parameters.
Agent instance has its own notion of uptime, eg. one can be running for 100 days, while another has just started.
Extend the lab to 100,000 devices by purchasng MIMIC SNMP Simulator.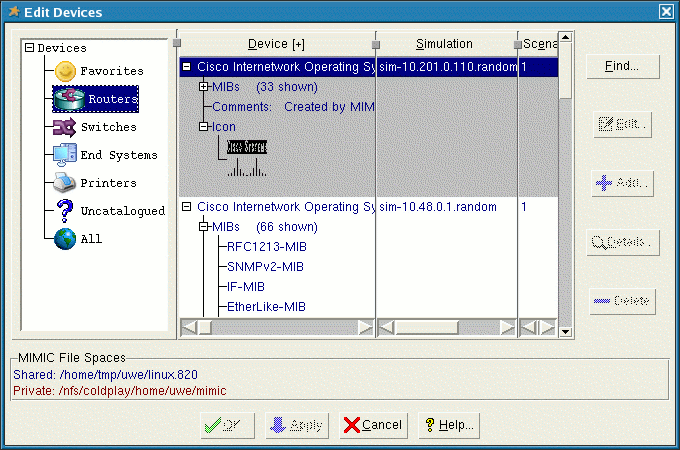 2. Customized SNMP Simulation
Select any subset of supported MIBs for each agent instance.
Run any mix of the supplied actual device simulation or record one from your lab.
Build your own SNMP simulation with the topologies and devices you need.
3. SNMP Agent Instance Configuration
Control each MIB object instance of the agent instance independently or as relationships.
4. Extensible Environment
Add any MIB to the SNMP simulation by compiling it with the MIMIC Compiler
Create basic simulations of actual devices with the MIMIC Recorder
Extend the simulation with standard scripting languages.
Customize the simulations with a powerful simulation language.
5. Real-time Modifiable Simulations
Use the MIB browser to manipulate each MIB object simulation independently at run-time.
Configure the simulation via batch scripts for automated regression testing or hands-off product demonstration.
Pause simulations to investigate a particular problem and resume at any point in time.
6. Configurable SNMP Trap Generation
Configure arrival rate, cutoff time, variable values, etc. on a per Trap basis in real-time and generate Trap storms.
Take snapshots with the Trap Wizard to replicate exact Trap sequences.
7. Recording Environment
Take snapshots of real world scenarios and simulate them almost immediately.
Discover large networks with Discovery Wizard.
Create dynamic simulations over time with Snapshot Wizard.
This is available to new MIMIC users only.
MIMIC Simulator Suite
If you are interested in creating your scalable test lab with devices and topology, MIMIC Simulator Suite allows you to create SNMPv1, SNMPv2c, SNMPv3, IPMI, Cisco IOS, Juniper JUNOS, Telnet/SSH based devices. You can simulate as many as 100,000 devices in a lab. It includes MIMIC Recorder to record your production network and duplicate it in your test lab.